Maple Side Farm
Local Beef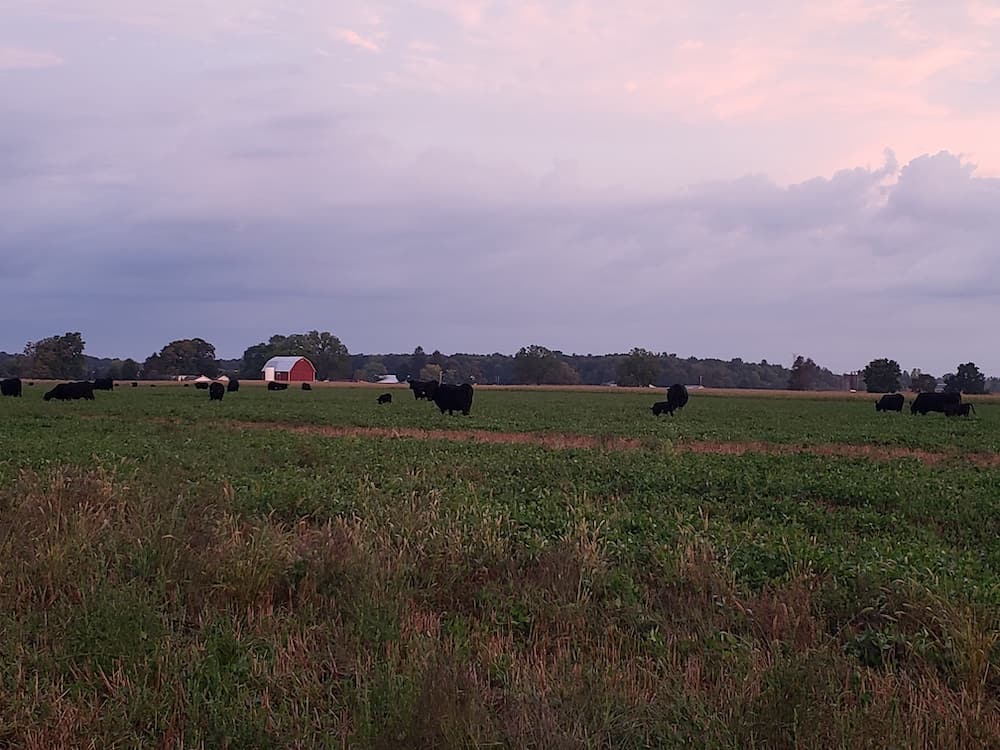 Any cattle not retained/sold for breeding stock are finished on our farm and sold to a growing list of freezer beef customers.
Finished cattle are butchered on our farm, and then transported to Byron Center Meats for cutting and packaging to customer specifications.
"This farm is awesome! Great meat-excellent texture and flavor. Easy and nice people with which to work."
Jennifer Byrd
"This year we purchased a half beef because, when we ran out after buying the quarter beef last year, we had to go back to buying beef in a store. We have two teenage boys who have been spoiled with the wonderful quality of eating fresh and tasty beef raised by you and your farm."
Becky
No Chemicals
Our calves are born on the farm and other than standard worming treatments and vaccinations, they are not treated with any chemicals, steroids, hormones, or antibiotics. 
Dry Aging
To achieve the most flavorful product, beef should be dry aged (the carcass hangs in a cooler before final cutting) for 10-14 days. Dry aging allows natural enzymes to breakdown the hard connective tissue in meats and for water to evaporate away concentrating the flavor, making the meat more tender and flavorful. The meat you buy in the supermarket is from high volume packing plants that do not have the time or space for dry aging. 
Less Stress
All cattle are butchered on the farm (so no stress or bruising from transport).  Our butcher splits the carcass in half and then loads them onto a refrigerated truck for transport to Byron Center Meats where they are dry aged and then cut and wrapped to your specifications.
Natural Diet
Our calves are born in the spring and nurse on their mothers and graze on our pastures until fall. Then they are weaned and get a diet of all-they-can-eat hay (dry grass). They also receive an oat/corn ration which helps them grow. 
Angus
Angus is the premier beef breed in the world. The breed is widely accepted by consumers and processors as the "gold standard" for quality, flavorful meat. Angus cattle are known for genes that make meat well marbled, more tender and flavorful. Good marbling means fat is dispersed thinly and evenly throughout the meat, ensuring the consistent texture, juiciness and flavor. "Angus" isn't just a marketing buzzword. It's one of the longest-standing breeds of cattle in agricultural history.